Training Kit
CONFLICT MANAGEMENT TRAINING KIT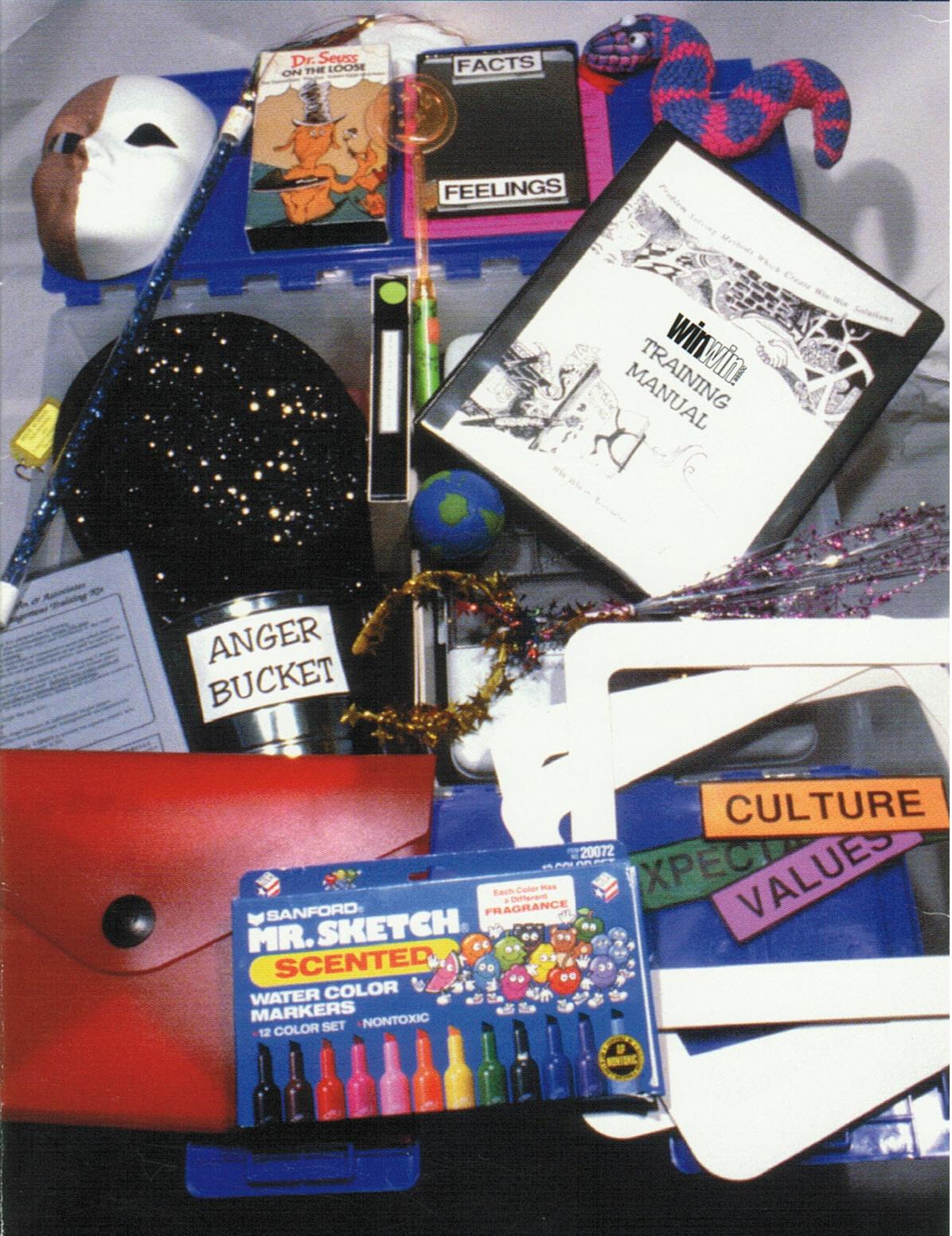 Teachers, counselors and trainers love WinWin's one-of-a-kind Training Kit. This comprehensive kit is a complete teaching package. It has everything needed so you can easily conduct fun and successful classroom lessons, guidance sessions, trainings and staff workshops in the areas of:
Peer Mediation

Conflict Resolution

Diversity Appreciation

Anger Management

Character Education

Community Building
Currently used in hundreds of schools and organizations, our field tested curriculums are designed to provide your staff members with new and creative ways to teach research-based concepts in resolving conflict.
The use of WinWin's training kit (sold with or without our trainings) is demonstrated throughout each of WinWin's trainings.

Highlights of the WinWin Training Kit:

"After 10 years of using WinWin materials and trainings, I have yet to find a better program!" Larry Robinson, Consultant/Trainer for Alabama Schools
The WinWin Kit contains the most comprehensive selection of attention-grabbing materials you can imagine! I use the kit to train Peer Mediators each year as well as for classroom guidance, lessons, small group, and staff presentations." Dr. Jim Bender, School Psychologist, Smith Language Academy, NC
"Everything I need for teaching respect, effective communication, anger management, and how to get along with those different from us, is provided in this kit." Trip Watson, Meidator and Trainer, Dispute Settlement Center, D.C.
"I love using these hands-on materials. The classroom-tested kit can't be beat!"
Jo Lynn Johnson, National Peer Helper Assoc. Board & Consultant, Raleigh, NC
"Classroom guidance has become fun for students and easy for me...using the materials in the WinWin Training Kit." Phyllis Basil, Counselor, Wilmington, N.C.
"These fun and to-the-point activities empower people and bring out leadership qualities in everyone, even our hard-to-motivate students."
Lionel Potts, School Resource Officer
1423 East Barden Rd. Charlotte, NC 28226 704.364.1212 Whitley@WinWinAssoc.com